Fair Hill Burial Ground and its surrounding neighborhood are located on Germantown Avenue, a street that was once a Lenni Lenape trade route. When Europeans colonized the area, it became a major thoroughfare between Philadelphia and the outlying rural areas.
The land which is now Historic Fair Hill was part of a large territory given by William Penn to his friend George Fox, the English founder of Quakerism. On his death in 1691 he left this plot to American Quakers for use as "a stable, a Meetinghouse and burying place." At that time, the area consisted of farmland and wooded area outside of the Philadelphia city limits.
In 1703, the original Meeting House was built. In the years from then until the present, the land saw great change as the city grew around it.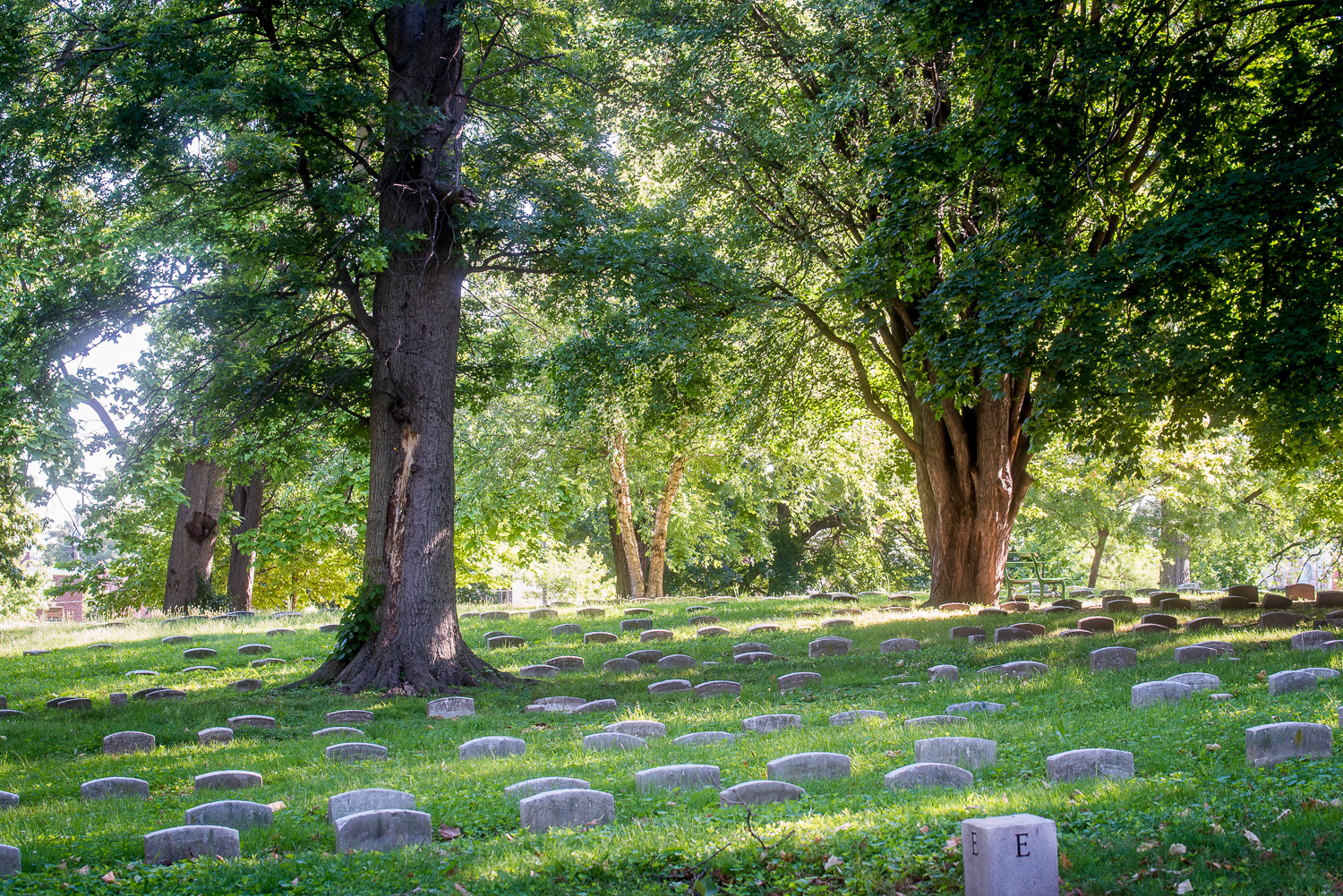 Abolition, Women's Rights,
Historic Fair Hill Burial ground is on the National Underground Railroad Network.  Robert and Harriet Purvis, Black leaders of the Underground Railroad, and some of their white allies are buried here. Purvis founded the Vigilant Society and served on the PA Anti Slavery Society board. His life long commitment to abolition and equality, his daring rescues of fugitives are described in the biography  But One Race and the children's book  The Adventures of Robert Purvis, Philadelphia Hero.  (available from HFH) His wife Harriet Purvis was a founder of the Female Anti Slavery Society,  raised money, and protested the segregation of the horse drawn trolleys. The Abolition movement was dangerous and illegal after the Fugitive Slave Act of 1830.  In 1838, Pennsylvania Hall, built to house abolitionist meetings was burned to the ground by a mob that then destroyed Black churches, homes, businesses. The activists were determined and persistent and eventually changed enough hearts and minds to elect a government that passed the Emancipation Proclamation in 1861.
From the Abolition movement grew a movement for Women's Rights. Lucretia and James Mott and MaryAnn  and Thomas M'Clintock , buried at Fairhill, were white Quaker allies of the Black led Abolition movement. Mott and Elizabeth Cady Stanton met at the World Antislavery Conference in London in 1840 and eight years later met in upstate New York. Five women, including Mott and McClintock decided at a tea party to start a movement with a document,  rewriting the  Declaration of Independence as The Declaration of  Sentiments.  "We hold these truths to be self evident that all men and women are created equal and endowed by their creator with certain inalienable rights." In ten days, they had organized the Seneca Falls Convention on the Rights of Women. 300 attended including Robert Purvis and Frederick Douglas.  That movement for equal rights for women is now a world wide movement.
Those courageous activists, our ancestors,  inspire us today as the struggle continues for Social Justice and Equity.  Here in Philadelphia, women and people of color have made great strides, but we still live with grossly unequal housing, education, health care, wealth and opportunity, a result of years of systemic racism.  Historic Fair Hill  along with partners, Historic Germantown and Quaker Meetings and organizations, supports the Black Lives Matter movement and works in local partnerships to create opportunities in schools and gardens for our neighbors to build healthy, prosperous lives.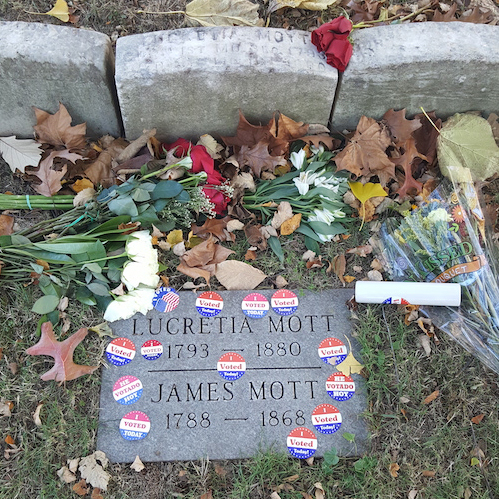 Six great wall murals around the historic site tell stories of the struggle for justice and equality in Philadelphia.
1. The Peaceable Kingdom at Clearfield and Percy shows the vision of William Penn to create a "Holy Experiment" where people lived together in harmony.  Penn's vision allowed freedom for white male property owners but did not include women and his enslaved people who worked for him.   
2. The Underground Railroad at 2950 Germantown Ave. shows Harriet Tubman, the Moses of herpeope,  Robert Purvis, Lucretia Mott, and many of the agents and conductors of the UGRR in Philadelphia.
3. The Female Anti slavery Society,  2900 Germantown Ave. shows Mott, Purvis, the black and white women, as well 100 years later Dr, King and Barbara Moffett of the AFSC.
4. A Tribute to Peaches  827 W Indiana shows Peaches Ramos, block captain and local hero who organized the neighbors to drive the biggest open air crack cocaine market in the city of her corner.  Shown with neighbors and police together.
5. Together We Stand  901 W Indiana shows a Vietnam vet looking at his watch and asking, "What time is it? The war is over. Why are kids still getting killed?"  Chollor and Yamira were a teenage couple murdered on the corner. He was a drug runner. She was robbed for her earrings.
6. The Healing Wall: Inmates Journey – These murals were painted at Graterford Prison by the drug dealers who once stood at 9th and Indiana. Peaches Ramos was invited to participate and was touched by the remorse of the men who wanted to try to make amends to the people they hurt.
7. The Healing Walls: Victim's Journey – The Mural Arts asked civilian victims of the drug wars to tell their stories and help with neighborhood healing.
HFH history guides give mural tours with discussion and sharing of what these stories mean to us today.