Are you interested in volunteering with us? We're always looking for more people to help in our community programs. These programs are our mission in action.
Take a look at our Volunteer Opportunities listed below.  Each will have their own application process, so please follow the instructions listed below the opportunity.  If you have any questions, email us at info[at]historicfairhill.com
**Some opportunities will require background clearances and/or training before you begin. Our staff will make arrangements with you to meet all requirements. NOTE: ALL CLEARANCES ARE FREE FOR VOLUNTEERS
Volunteer Opportunities

Be a Reading Buddy
Our reading buddies are paired with local classrooms where they provide one-on-one reading support to young students. Many of the students in these programs don't have adults available to read with them in their lives outside of school. This is an ongoing commitment; we will provide training, guidance, help with getting state clearances, carpools, and good fellowship. For more information, please contact us.
Start Reading Buddies Application

Garden with Us
Gardeners are needed to work in the main Fairhill history garden, four satellite gardens and two school gardens.
Come help in the grounds and gardens. Attend Second Saturday work days, 10am – 1pm.
Wear work clothes, a hat, and work gloves if you have them.  There is always work to be done: Raking woodchips, mulching, weeding, resetting grave stones.  
For more info, contact Grounds committee member Dan Anderson, daniel.gordon.anderson[at]gmail.com
Email us to garden

Help in the school libraries
Volunteer in the school libraries of Julia deBurgos, Hartranft, or William Cramp Libraries.  Apply as a reading buddy volunteer.
Email us to be a library helper
.
.
..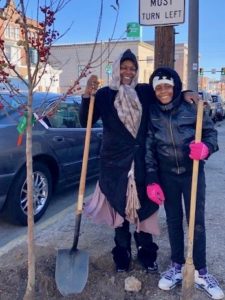 Help Plant Trees in Fairhill

Our branch of the Philadelphia Horticultural Society's Tree Tenders program and our neighbors have planted 120 trees since 2013.  Join us in planting trees one Saturday every April and November.  We can also always use volunteers to chat with neighbors for tree tenders recruitment.

For more information, please contact us.

Email us to plant trees