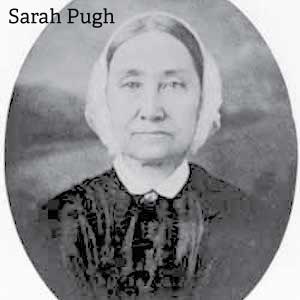 Sarah Pugh was a schoolteacher who devoted her life to the abolition of slavery and advancing the rights of women. Born in Virginia, she was moved to Philadelphia at the age of three when her father died, and spent her life in this city. She attended Westtown boarding school for two years, and in 1821 began teaching at the Friends School connected with the 12th Street Meeting.
At the time of the separation between Orthodox and Hicksite Friends, 12th Street became Orthodox, and Sarah resigned, and started her own school which she ran most of her life.
When the English abolitionist, George Thompson, spoke in Philadelphia in 1835, Sarah was converted to the cause of immediate ending of slavery. She joined the Philadelphia Female Anti-Slavery Society and became its presiding officer for many years. She was also a member of the Pennsylvania Anti-Slavery Society.
In 1840, Sarah was chosen to represent Pennsylvania at the World Anti-Slavery Convention in London, along with James and Lucretia Mott and Abby Kimber (also buried at Fair Hill) Elizabeth Neall Gay (daughter of Daniel Neall), and Mary Grew. When all women were refused a seat, Sarah wrote a strong protest for the Pennsylvania delegation. Later she toured the British Isles and the Continent. She returned to England in 1851 to spend seventeen months explaining the anti-slavery movement to British audiences.
A close friend of Lucretia Mott, she often traveled with the noted reformer, attending women's rights conventions. After the Civil War she became interested in the establishment of schools for the freedmen and worked for the Pennsylvania Woman's Suffrage Association. She was also involved the Moral Education Society and took part in a campaign to prevent the licensing of prostitutes, believing that not they, but their customers should be penalized.
Her niece, Florence Kelley, who became a crusader against child labor, was much influenced by the quiet and persistent work of Sarah Pugh for equal dignity for blacks and for women.
In 1838, the Anti-Slavery Convention of American Women was holding its meetings at the newly constructed Pennsylvania Hall. When that building was burned to the ground by an angry pro slavery mob, Sarah was one of the women who escaped by walking out, two by two, one black woman and one white woman arm in arm. The rioters were demanding that blacks and whites stop meeting together. The next day, the convention met in Sarah's schoolroom, and pledged to expand, not contract, their relationships with black men and women.